Labels & Ribbons
AhearnUSA is a single source for labels, tickets, tags and ribbons. Since we provide each aspect of the solution, we have inherent knowledge of the pitfalls that can result from poorly designed, poor quality supplies. We provide proper design, consistent quality, excellent customer service, on-time delivery - all with proven results. Our consultants will work with you to save money by optimizing your use of labels, ribbons and other supplies.
We specialize in the manufacture of labels, tickets, tags and ribbons designed for use in automation equipment such as Thermal Transfer Printers and Automatic Label Applicators. When the wrong supplies are used with such equipment they can cause jamming, premature mechanical failure, and/or print head burnout. We carry a broad range of products specifically engineered to meet the growing demands of your business - and our labels, tags and ribbons will not cause these problems. We pay close attention to many design parameters including face stock coating, liner weight, adhesive release, static, cut precision, feed and exit mechanism requirements and dust particles to make sure our products operate flawlessly with your equipment, in your application.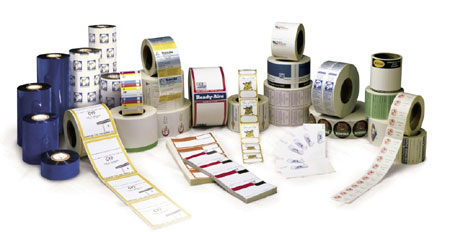 In addition to standard blank labels and tags, we can also produce preprinted and specialty labels and tags with any necessaries such as artwork, logos, flood coating, special slits or die cuts, perforations, patterned adhesives, tractor feeds, laminations, timing marks, or varnishes.